Tutti i vincitori dei Golden Globes 2016: trionfano Lady Gaga e Taraji P. Henson
di Michela Ballardini -
Lady Gaga e Taraji P. Henson impressionano la critica e vincono i Golden Globes. Ecco la lista completa dei trionfatori dell'edizione 2016.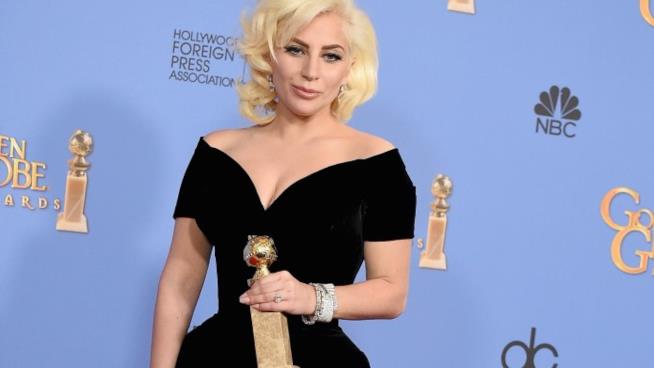 1k condivisioni 89 commenti
Ai Golden Globes 2016 c'è anche un po' di Italia: Ennio Morricone, infatti, si aggiudica il premio per la "Miglior colonna sonora" per il film "The Hateful Eight" di Quentin Tarantino che ritira il premio al suo posto.
Ma è anche la notte di Leonardo Di Caprio (che così penserà, per l'ennesima volta, di essere un po' più vicino al suo primo Oscar) e del suo "Revenant", di Jennifer Lawrence con "Joy" e di Sylvester Stallone al suo primo Golden Globe nei panni dello storico Rocky Balboa (standing ovation per lui, sulle note di "Eye of the Tiger").
In MondoFox ovviamente si festeggiano i Golden Globe di Lady Gaga (Miglior attrice in una mini serie con American Horror Story - Hotel) e di Taraji P. Henson (Miglior attrice in una serie TV drama con Empire).
Ecco la lista di tutti i vincitori.
FILM
Best Motion Picture – Drama
"The Revenant" -- WINNER
"Carol"
"Mad Max: Fury Road"
"Room"
"Spotlight"
Best Motion Picture – Comedy or Musical
"The Martian" -- WINNER
"The Big Short"
"Joy"
"Spy"
"Trainwreck"
Best Director – Motion Picture
Alejandro G. Iñárritu ("The Revenant") -- WINNER
Todd Haynes ("Carol")
Tom McCarthy ("Spotlight")
George Miller ("Mad Max: Fury Road")
Ridley Scott ("The Martian")
Best Actor in a Motion Picture – Drama
Leonardo DiCaprio ("The Revenant") -- WINNER
Bryan Cranston ("Trumbo")
Michael Fassbender ("Steve Jobs")
Eddie Redmayne ("The Danish Girl")
Will Smith ("Concussion")
Best Actress in a Motion Picture – Drama
Brie Larson ("Room") -- WINNER
Cate Blanchett ("Carol")
Rooney Mara ("Carol")
Saoirse Ronan ("Brooklyn")
Alicia Vikander ("The Danish Girl")
Best Actor in a Motion Picture – Comedy or Musical
Matt Damon ("The Martian") -- WINNER
Christian Bale ("The Big Short")
Steve Carell ("The Big Short")
Al Pacino ("Danny Collins")
Mark Ruffalo ("Infinitely Polar Bear")
Best Actress in a Motion Picture – Comedy
Jennifer Lawrence ("Joy") -- WINNER
Melissa McCarthy ("Spy")
Amy Schumer ("Trainwreck")
Maggie Smith ("The Lady in the Van")
Lily Tomlin ("Grandma")
Best Supporting Actor in a Motion Picture
Sylvester Stallone ("Creed") – WINNER
Paul Dano ("Love & Mercy")
Idris Elba ("Beasts of No Nation")
Mark Rylance ("Bridge of Spies")
Michael Shannon ("99 Homes")
Best Supporting Actress in a Motion Picture
Kate Winslet ("Steve Jobs") – WINNER
Jane Fonda ("Youth")
Jennifer Jason Leigh ("The Hateful Eight")
Helen Mirren ("Trumbo")
Alicia Vikander ("Ex Machina")
Best Screenplay – Motion Picture
Aaron Sorkin ("Steve Jobs") -- WINNER
Emma Donoghue ("Room")
Tom McCarthy, Josh Singer ("Spotlight")
Charles Randolph, Adam McKay ("The Big Short")
Quentin Tarantino ("The Hateful Eight")
Best Original Score
Ennio Morricone ("The Hateful Eight") -- WINNER
Carter Burwell ("Carol")
Alexandre Desplat ("The Danish Girl")
Daniel Pemberton ("Steve Jobs")
Ryuichi Sakamoto Alva Noto ("The Revenant")
Best Original Song
"Writing's on the Wall" from "Spectre" – WINNER
"Love Me Like You Do" from "Fifty Shades of Grey"
"One Kind of Love" from "Love & Mercy"
"See You Again" from "Furious 7"
"Simple Song No. 3" from "Youth"
Best Animated Feature Film
"Son of Saul" – WINNER
"Anomalisa"
"The Good Dinosaur"
"Inside Out" -- WINNER
"The Peanuts Movie"
"Shaun the Sheep Movie"
Best Motion Picture – Foreign Language
"The Brand New Testament"
"The Club"
"The Fencer"
"Mustang"
TELEVISION
"Mr. Robot" -- WINNER
Best TV Series – Drama
"Empire"
"Game of Thrones"
"Narcos"
Best TV Series – Comedy
"Mozart in the Jungle" -- WINNER
"Casual"
"Orange Is the New Black"
"Silicon Valley"
"Transparent"
"Veep"
Best TV Movie or Limited-Series
"Wolf Hall" – WINNER
"American Crime"
"American Horror Story - Hotel"
"Fargo"
"Flesh and Bone"
Best Actor in a TV Series – Drama
Jon Hamm ("Mad Men") -- WINNER
Rami Malek ("Mr. Robot")
Wagner Moura ("Narcos")
Bob Odenkirk ("Better Call Saul")
Liev Schreiber ("Ray Donovan")
Best Actress in a TV Series – Drama
Taraji P. Henson ("Empire") -- WINNER
Caitriona Balfe ("Outlander")
Viola Davis ("How to Get Away With Murder")
Eva Green ("Penny Dreadful")
Robin Wright ("House of Cards")
Best Actor in a TV Series – Comedy
Gael Garcia Bernal ("Mozart in the Jungle") -- WINNER
Aziz Ansari ("Master of None")
Rob Lowe ("The Grinder")
Patrick Stewart ("Blunt Talk")
Jeffrey Tambor ("Transparent")
Best Actress in a TV Series – Comedy
Rachel Bloom ("Crazy Ex Girlfriend") -- WINNER
Jamie Lee Curtis ("Scream Queens")
Julia Louis-Dreyfus ("Veep")
Gina Rodriguez ("Jane the Virgin")
Lily Tomlin ("Grace & Frankie")
Best Actor in a Limited-Series or TV Movie
Oscar Isaac ("Show Me a Hero") -- WINNER
Idris Elba ("Luther")
David Oyelowo ("Nightingale")
Mark Rylance ("Wolf Hall")
Patrick Wilson ("Fargo")
Best Actress in a Limited-Series or TV Movie
Lady Gaga ("American Horror Story - Hotel") -- WINNER
Kirsten Dunst ("Fargo")
Sarah Hay ("Flesh & Bone")
Felicity Huffman ("American Crime")
Queen Latifah ("Bessie")
Best Supporting Actor in a Series, Limited-Series or TV Movie
Christian Slater ("Mr. Robot") – WINNER
Alan Cumming ("The Good Wife")
Damian Lewis ("Wolf Hall")
Ben Mendelsohn ("Bloodline")
Tobias Menzies ("Outlander")
Best Supporting Actress in a Series, Limited-Series, or TV Movie
Maura Tierney ("The Affair") -- WINNER
Uzo Aduba ("Orange is the New Black")
Joanne Froggatt ("Downton Abbey")
Regina King ("American Crime")
Judith Light ("Transparent")