AnimazioneCinemaTV NewsVideogames
I Simpson Bob's Burgers
Zootropolis assedia gli Annie Awards 2017: ecco tutte le nomination
di Stefania Venturetti - | aggiornato
Il 4 febbraio 2017, gli Annie Awards premieranno le migliori opere d'animazione dell'anno. A guidare le nomination ci sono Zootropolis e Kubo e la Spada Magica.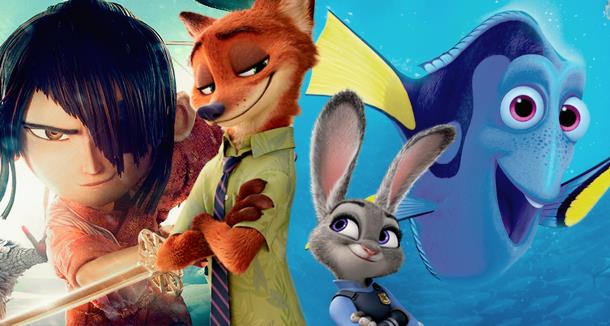 923 condivisioni 0 commenti
Le nomination agli Annie Awards 2017 sono finalmente arrivate.
Senza troppe sorprese, a guidare la corsa agli "Oscar dell'animazione" c'è il successo disneyano di Zootropolis (Zootopia). L'avventura della determinata poliziotta Judy Hopps e della volpe Nick Wilde si è guadagnata ben 11 nomination, incluse quelle come Miglior Film d'Animazione e Miglior Regia. A tallonarla a poca distanza c'è l'ultimo gioiello di casa Laika, Kubo e la Spada Magica (Kubo and the Two Strings), in lizza per ben 10 premi.
La "vittoria numerica" di questa prima fase degli Annie Awards va a Disney/Pixar, con un totale di 38 nomination, tra cui due per Il Libro della Giungla di Jon Favreau. La segue a ruota DreamWorks, con 18 nomine per i suoi film e serie TV. In ambito televisivo vi segnaliamo il ritorno di due vincitori dello scorso anno, I Simpson e Bob's Burgers, che proveranno a collezionare qualche nuovo premio.
La cerimonia di premiazione dei 44esimi Annie Awards si svolgerà il 4 febbraio. L'attesa è grande anche perché, negli ultimi anni, il Miglior Film d'Animazione spesso ha coinciso con il vincitore dell'Oscar nella stessa categoria. Nel 2016, per esempio, è stato il già pluripremiato Inside Out a conquistare le lodi dell'Academy.
In attesa dei risultati di quest'anno, ecco tutte le nomination agli Annie Awards 2017.
Premi alle produzioni
Miglior Film d'Animazione
Miglior film d'animazione indipendente
Long Way North, Sacrebleu Productions, Maybe Movies, NorlumStudios, France 3 Cinéma and 2 Minutes
Miss Hokusai, GKids
My Life as a Zucchini, GKids
The Red Turtle, Studio Ghibli, Wild Bunch, Why Not Productions
Your Name., CoMix Wave Films
Miglior special d'animazione
Audrie & Daisy, AfterImage Public Media in association with Actual Films for Netflix
Kung Fu Panda: Secrets of the Scroll, DreamWorks Animation
Little Big Awesome, Titmouse, Inc./Amazon Studios
Middle School: The Worst Years of My Life, CBS Films/J.P. Entertainment/Participant Media
Pear Cider and Cigarettes, Massive Swerve Studios and Passion Pictures Animation
Miglior cortometraggio d'animazione
Blind Vaysha, National FilmBoard of Canada
Deer Flower, Studio ZAZAC
Path Title Sequence, Acme Filmworks
Pearl, Google Spotlight Stories/Evil Eye Pictures
Piper, Pixar Animation Studios
Miglior spot televisivo animato
Duelyst, Powerhouse Animation Studios, Inc.
LEGO Star Wars: The Force Awakens Trailer, Plastic Wax
Lily & the Snowman, Hornet
Loteria Night Shift, Passion Pictures Ltd.
The Importance of Paying Attention: Teeth, Bill Plympton Studio
Miglior produzione televisiva d'animazione per bambini in età prescolare
Ask the StoryBots, Episodio: Why Do I Have to Brush My Teeth?, JibJab Bros. Studios for Netflix
Peg + Cat, Episodio: The Disappearing Art Problem, The Fred Rogers Company/ 9ate7 Productions
Puffin Rock – The First Snow, Episode 59, Cartoon Saloon, Dog Ears, Penguin RandomHouse
The Stinky & Dirty Show, Episodio: Squeak, Amazon Studios and Brown Bag Films
Tumble Leaf, Episodio: Mighty Mud Movers / Having a Ball, Amazon Studios and Bix Pix Entertainment
Miglior produzione televisiva d'animazione per bambini
Adventure Time, Episodio: Bad Jubies, Bix Pix Entertainment, Cartoon Network, Frederator Studios
DreamWorks Voltron Legendary Defender, Episodio: Return of the Gladiator, DreamWorks Animation Television
Elena of Avalor, Episodio: A Day to Remember, Disney Television Animation
Teenage Mutant Ninja Turtles, Episodio: Trans-Dimensional Turtles, Nickelodeon
Wander Over Yonder, Episodio: My Fair Hatey, Disney Television Animation
Miglior produzione televisiva d'animazione generale
Bob's Burgers, Episodio: Glued, Where's My Bob?, Bento Box Entertainment
BoJack Horseman, Episodio: Fish Out of Water, Tornante Productions for Netflix
Long Live the Royals, Episodio: Punk Show, Cartoon Network Studios
I Simpson, Episodio: Barthood, Gracie Films in Association with 20th Century Fox Television
The Venture Bros, Episodio: Hostile Makeover, Titmouse, Inc.
Miglior film studentesco
Citipati, Filmakademie Baden-Wuerttemberg
FISHWITCH, Adrienne Dowling
The Abyss, Liying Huang
The Wrong End of the Stick, Terri Matthews
Twiddly Things, Adara Todd
Premi individuali - Per i lungometraggi d'animazione
Migliori effetti animati in un film d'animazione
Kubo e la Spada Magica, Laika; Lead Effects Artist: David Horsley; CG Look Development Lead: Eric Wachtman; Senior Compositor: Timur Khodzhaev; Compositor: Daniel Leatherdale; Lead CG Lighter: Terrance Tomberg
Kung Fu Panda 3, DreamWorks Animation; Effects Sequence Lead: Matt Titus; Effects Sequence Lead: Jeff Budsberg; Effects Sequence Lead: Carl Hooper; Effects Sequence Lead: Louis Flores; Effects Sequence Lead: Jason Mayer
Oceania, Walt Disney Animation Studios; Head of Effects Animation: Marlon West; Effects Lead: Erin V. Ramos; Effects Lead: Blair Pierpont; Foundation Effects Lead: Ian J. Coony; Effects Lead: John M. Kosnik
The Red Turtle, Studio Ghibli, Wild Bunch, Why Not Productions; Special Effects Supervisor: Mouloud Oussid
Zootropolis, Walt Disney Animation Studios; Effects Lead: Thom Wickes; Effects Lead: Henrik Fält; Effects Animator: Dong Joo Byun; Effects Animator: Rattanin Sirinaruemarn; Effects Animator: Sam Klock
Migliori effetti animati in un film live-action
Miglior animazione dei personaggi in un film d'animazione
Alla Ricerca di Dory, Pixar Animation Studios; Character Development and Animation: Erick Oh; Characters: All Characters
Kubo e la Spada Magica, Laika; Animator: Jan Maas; Characters: Multiple
Kung Fu Panda 3, DreamWorks Animation; Animation Supervisor: Ludovic Bouancheau; Characters: Various
Zootropolis, Walt Disney Animation Studios; Animator: Dave Hardin Charactes: Judy Hopps, Stu Hopps, Bonnie Hopps, Chief Bogo, Nick Wilde,
Zootropolis, Walt Disney Animation Studios; Animator: Chad Sellers; Characters: Mr. Big, Koslov, Judy Hopps, Nick Wilde, Flash
Miglior animazione dei personaggi in un film live-action
Captain America: Civil War, Marvel Studios; Spider-man; ILM Animation Supervisor: Steve Rawlins; CG Lead Artist: Ebrahim Jahromi; Associate Animation Supervisor: Cedric Lo; CG Lead Artist: Stephen King; Digital Artist: Yair Gutierrez
Game of Thrones, HBO, Episodio: Battle of the Bastards; Visual Effects By Iloura: Nicholas Tripodi; Visual Effects By Iloura: Dean Elliott; Visual Effects By Iloura: James Hollingworth; Visual Effects By Iloura: Matt Weaver
Il Libro della Giungla, Walt Disney Pictures; Animation Supervisor: Andrew R. Jones; Animation Supervisor: Peta Bayley; Animation Supervisor: Gabriele Zucchelli; Character Supervisor: Benjamin Jones
Il Libro della Giungla, Walt Disney Pictures; Animation Supervisor: Andrew R. Jones; Senior Animation Supervisor: Paul Story; Animation Supervisor: Dennis Yoo; Motion Editor: Eteuati Tema; Senior Facial Modeller: Andrei Coval
Warcraft , Legendary/Universal; Orcs; Animation Supervisor: Hal Hickel; Digital Artist : Jee Young Park; Digital Artist: Kai-Hua Lan; Animation Supervisor: Cedric Lo; Animation Supervisor: KimHuat Ooi
Miglior character design in un film d'animazione
Kubo e la Spada Magica, Laika; Character Designer: Shannon Tindle, Characters: Multiple
Oceania, Walt Disney Animation Studios; Art Director Characters: Bill Schwab, Characters: Oceania, Maui, Pua, Heihei, Tamatoa, Kakamora, Lalotai Characters (Realm of Monsters); Visual Development Artist: Jin Kim, Charactesr: Oceania, Maui, Gramma Tala, Sina, Ancestor Wayfinders, Lalotai Characters (Realm of Monsters), Te Kā
Pets - Vita da Animali, Illumination Entertainment; Character Design by: Eric Guillon Character: All
Trolls, DreamWorks Animation; Art Director: Tim Lamb, Characters: Trolls; Character Designer: Craig Kellman, Characters: Bergens
Zootropolis, Walt Disney Animation Studios; Character Design : Cory Loftis, Characters: Nick Wilde, Judy Hopps, Flash, Chief Bogo, Clawhauser, Mr. Big, Fru Fru, Koslov, Bellwether, Yax, Finnick, Doug, Mr. and Mrs. Otterton, Duke Weaselton, Misc. Characters
Miglior regia in un film d'animazione
Kubo e la Spada Magica, Laika; Director: Travis Knight
My Life as a Zucchini, GKids; Director: Claude Barras
The Red Turtle, Studio Ghibli, Wild Bunch, Why Not Productions; Director: Michael Dudok de Wit
Your Name., CoMix Wave Films; Director: Makoto Shinkai
Zootropolis, Walt Disney Animation Studios; Director: Byron Howard; Director: Rich Moore
Miglior colonna sonora in un film d'animazione
Batman: Return of the Caped Crusaders, Warner Bros. Animation; Composer: Kristopher Carter; Composer: Lolita Ritmanis; Composer: Michael McCuistion
Sing, Illumination Entertainment; Composer: Joby Talbot
Il Piccolo Principe, Netflix and On Animation Studios; Composer: Hans Zimmer; Composer: Richard Harvey; Composer/Lyricist: Camille
The Red Turtle, Studio Ghibli, Wild Bunch, Why Not Productions; Composer: Laurent Perez del Mar
Pets - Vita da Animali, Illumination Entertainment, Composer: Alexandre Desplat
Miglior scenografia in un film d'animazione
Kubo e la Spada Magica, Laika; Production Design: Nelson Lowry; Production Design: Trevor Dalmer; Production Design: August Hall; Production Design: Ean McNamara
Kung Fu Panda 3, DreamWorks Animation; Production Design: Raymond Zibach; Production Design: Max Boas
The Little Prince, Netflix and On Animation Studio; Production Design: Lou Romano; Production Design: Alexander Juhasz; Production Design: Celine Desrumaux
Trolls, DreamWorks Animation; Production Design: Kendal Cronkhite; Production Design: Tim Lamb
Zootropolis, Walt Disney Animation Studios; Production Design: David Goetz; Production Design: Matthias Lechner
Miglior storyboarding in un film d'animazione
Alla Ricerca di Dory, Pixar Animation Studios; Storyboard Artist: Trevor Jimenez
Kubo e la Spada Magica, Laika; Storyboard Artist: Mark Garcia
Oceania, Walt Disney Animation Studios; Storyboard Artist: Normand Lemay
Trolls, DreamWorks Animation; Storyboard Artist: Claire Morrissey
Zootropolis, Walt Disney Animation Studios; Storyboard Artist: Dean Wellins
Miglior voce in un film d'animazione
Kubo e la Spada Magica, Laika; Art Parkinson as Kubo
Oceania, Walt Disney Animation Studios; Auli'i Cravalho as Oceania
Cicogne in Missione, Warner Animation Group; Katie Crown as Tulip
Trolls, DreamWorks Animation; Zooey Deschanel as Bridget
Zootropolis, Walt Disney Animation Studios' Jason Bateman as Nick Wilde
Miglior sceneggiatura in un film d'animazione
Kubo e la Spada Magica, Laika; Writer: Marc Haimes; Writer: Chris Butler
My Life as a Zucchini, GKids; Writer: Céline Sciamma
The Red Turtle, Studio Ghibli, Wild Bunch, Why Not Productions; Writer:Michael Dudok de Wit; Writer: Pascale Ferran
Zootropolis, Walt Disney Animation Studios; Writer: Jared Bush; Writer: Phil Johnston
Miglior montaggio in un film d'animazione
April and the Extraordinary World, GKids, Nazim Meslem
Kubo e la Spada Magica, Laika, Christopher Murrie
Oceania, Walt Disney Animation Studios, Jeff Draheim
Sausage Party, Columbia Pictures, Annapurna Pictures; Kevin Pavlovic
Zootropolis, Walt Disney Animation Studios; Fabienne Rawley, Jeremy Milton
Premi Individuali - Per le produzioni televisive d'animazione
Miglior animazione dei personaggi in una produzione televisiva d'animazione
Atomic Puppet, Mercury Filmworks, Gaumont Animation, Technicolor; Character Animator: Barry Kennedy; Characters: Disastro, Phil Felt, Joey Felt, Old
Man, Atomic Puppet, Mookie, Vivian Felt, Smoke Monster, Principal Wartickle, Sword Sister (Paulina), Were-chicken, Chicken, Mr. Inkwood, Cornelius (Octopus), Atomic Android, incidental characters
DreamWorks Trollhunters, Episodio: Becoming, Part 1, DreamWorks Animation Television; Character Animator: Mike Chaffe; Characters: Blinky, Aaarrrgghh!!
The Snowy Day, Amazon Studios and Karrot Entertainment; Lead Animator: Rob Thomson; Character: Peter, Mom, Nana and other various characters
Tumble Leaf, Episodio: Thinking Outside The Hoop / Fig's HayMaze-ing Wander, Amazon Studios and Bix Pix Entertainment; Lead Animator: Dan MacKenzie; Characters: Fig, Hedge, Stick, Okra, Maple, Pine, Buckeye, Gourd, Chickens
Tumble Leaf, Episodio: Mighty Mud Movers / Having a Ball, Amazon Studios and Bix Pix Entertainment; Lead Animator: Joe Heinen; Characters: Fig, Hedge, Stick, Buckeye, Pine, Beetles
Miglior character design in una produzione televisiva d'animazione
Counterfeit Cat, Episodio: 28 Seconds Later, Tricon Kids & Family and Wildseed Kids; Art Director: Raphaël Chabassol; Character: Full cast: Max, Gark, Betty, etc.
DreamWorks Trollhunters, Episodio: Win, Lose or Draal, DreamWorks Animation Television; Character Designer: Victor Maldonado, Character: All Characters; Character Designer: Alfredo Torres, Character: All Characters; Character Designer: Jules Rigolle, Character: All Characters
Pig Goat Banana Cricket, Episodio: It's Time to Slumber Party, Nickelodeon; Character Designer: Jennifer Wood, Character: Various
Rain or Shine, Google Spotlight Stories/Nexus Studios; Character Design: Robin Davey, Character: Multiple
Wander Over Yonder, Episodio: The Night Out, Disney Television Animation; Character Designer: Benjamin Balistreri, Character: Various
Miglior regia in una produzione televisiva d'animazione
A Love Story, Passion Pictures; Director: Saschka Unseld
Adventure Time, Episodio: Bad Jubies, Cartoon Network Studios; Director: Kirsten Lepore
Open Season: Scared Silly, Episodio: Open Season: Scared Silly; Sony Pictures Animation; Director: David Feiss
Pearl, Google Spotlight Stories/Evil Eye Pictures; Director: Patrick Osborne
Wander Over Yonder, Episodio: My Fair Hatey, Disney Television Animation; Director: Dave Thomas; Director: Eddie Trigueros; Director: Justin Nichols
Miglior colonna sonora in una produzione televisiva d'animazione
Bob's Burgers, Episodio: Glued, Where's My Bob?, Bento Box Entertainment; Composer: Loren Bouchard; Composer: John Dylan Keith
Disney Mickey Mouse, Episodio: Dancevidaniya, Disney Television Animation; Composer: Christopher Willis
DreamWorks Trollhunters, Episodio: Becoming, Part 1, DreamWorks Animation Television; Composer: Alexandre Desplat; Composer: TimDavis
Pearl, Google Spotlight Stories/Evil Eye Pictures; Composer: Scot Stafford; Composer/Lyricist: Alexis Harte; Composer/Lyricist: JJ Wiesler
Star Wars Rebels, Episodio: #2-24: Twilight of the Apprentice, LucasfilmLtd. / Disney XD; Composer: Kevin Kiner
Miglior scenografia in una produzione televisiva d'animazione
Adventure Time, Episodio: Bad Jubies; Bix Pix Entertainment, Cartoon Network, Frederator Studios; Production Design: Jason Kolowski
Pearl, Google Spotlight Stories/Evil Eye Pictures; Production Design: Tuna Bora
Puffin Rock, Episodio: The First Snow, Cartoon Saloon, Dog Ears and Penguin for Netflix; Production Design: Lily Bernard
Rain or Shine, Google Spotlight Stories/Nexus Studios; Production Design: Robin Davey
The Mr. Peabody & Sherman Show, Episodio: The Wrath of Hughes, DreamWorks Animation Television; Production Design: Kevin Dart; Production Design: Sylvia Liu; Production Design: Chris Turnham; Production Design: Eastwood Wong
Miglior storyboarding in una produzione televisiva d'animazione
Atomic Puppet, Episodio: Sick Day, Mercury Filmworks, Gaumont Animation, Technicolor; Storyboard Artist: Kyle Marshall
Disney Mickey Mouse, Episodio: Road Hogs, Disney Television Animation; Storyboard Artist: Heiko Von Drengenberg
DreamWorks Trollhunters, Episodio: Win, Lose or Draal, DreamWorks Animation Television; Storyboard Artist: Hyunjoo Song
Milo Murphy's Law, Episodio: Going the Extra Milo, Disney Television Animation; Storyboard Artist: Dan Povenmire; Storyboard Artist: Kyle Menke
The Adventures of Puss in Boots, Episodio: Prey Time, DreamWorks Animation Television; Storyboard Artist: Ben Juwono
Miglior voce in una produzione televisiva d'animazione
BoJack Horseman, Episodio: Multiple Episodes; Tornante Productions, LLC for Netflix; Alison Brie as Diane Nguyen
Open Season: Scared Silly, Episodio: Open Season: Scared Silly; Sony Pictures Animation; Will Townsend as Mr. Weenie
Splash and Bubbles, Episodio: #102 I Only Have Eyespots/Double Bubbles; The Jim Henson Company and Herschend Entertainment; Puppeteer Leslie Carrara-Rudolph as: Bubbles
Star Wars Rebels, Episodio: #3-05: Hera's Heroes, LucasfilmLtd. / Disney XD; Lars Mikkelsen as Grand Admiral Thrawn
The Mr. Peabody & Sherman Show, Episodio: Ponce de León; DreamWorks Animation Television; Carlos Alazraqui as Ponce de León
Miglior sceneggiatura in una produzione televisiva d'animazione
Bob's Burgers, Episodio: The Hormone-iums, Bento Box Entertainment; Writer: Lizzie Molyneux; Writer: Wendy Molyneux
Gravity Falls, Episodio: Weirdmageddon 3: Take Back The Falls, Disney TV Animation; Writer: Shion Takeuchi; Writer: Mark Rizzo; Writer: Jeff Rowe; Writer: Josh Weinstein; Writer: Alex Hirsch
Puffin Rock – The First Snow, Episodio: 59; Cartoon Saloon, Dog Ears, Penguin Random House; Writer: Davey Moore
I Simpson, Episodio: Barthood, Gracie Films in Association with 20th Century Fox Television; Writer: Dan Greaney
I Simpson, Episodio: The Burns Cage; Gracie Films in Association with 20th Century Fox Television; Writer: Rob LaZebnik
Miglior montaggio in una produzione televisiva d'animazione
All Hail King Julien, Episodio: King Julien Superstar!; DreamWorks Animation Television; David Craig, Jeff Adams
Bob's Burgers, Episodio: Sea Me Now; Bento Box Entertainment; Mark Seymour, Chuck Smith, Eric Davidson
Disney Mickey Mouse, Episodio: Sock Burglar, Disney Television Animation; Illya Owens
Gravity Falls, Episodio: Weirdmageddon 3: Take Back The Falls, Disney TV Animation; Kevin Locarro; Andrew Sorcini; Nancy Frazen; Tony Mizgalski
Star Wars Rebels, Episodio: #2-24: Twilight of the Apprentice; LucasfilmLtd. / Disney XD; Joe E. Elwood, Alex McDonnell
Premi Individuali - Per i videogame
Miglior animazione dei personaggi in un video game
Teenage Mutant Ninja Turtles: Legends, Ludia Inc.; Character Animator: Lucio Mennillo; Character: Donatello Vision; Character Animator: Martine Quesnel; Character: Leonardo Vision; Character Animator: Alexandre Cheff; Character: Donatello LARP; Character Animator: Laura Gorrie; Character: Leatherhead LARP; Lead Animator: Guillaume Charrin; Character: Raphael Vision
Titanfall 2, Respawn Entertainment; Character Animator: Ranon Sarono, Character: Jack Cooper, BT-7274, Weapons; Character Animator: Shawn Wilson; Character: BT-7274, Creatures; Lead Animator: Mark Grigsby Character: BT-7274, Jack Cooper, Viper, Weapons; Lead Animator: Paul Messerly Character: BT-7274, Jack Cooper, AI; Character Animator: Moy Parra, Character BT-7274, Villains
Uncharted 4: A Thief's End, Naughty Dog; Lead Animator: Jeremy Yates Character: All; Lead Animator: Almudena Soria Character: All; Lead Animator: Eric Baldwin Character: All; Lead Animator: Paul Davies Character: All; Lead Animator: Tom Bland Character: All; Witcher 3 Expansion Packs – Character Animation Reel; CDProjekt Red Lead Animator: Sebastian Kalemba; Character: Directing role
Premi della Giuria
Winsor McCay Award – Premio alla carriera per i contributi nell'arte dell'animazione
Dale Baer
Caroline Leaf
Mamoru Oshii
Ub Iwerks Award - Conseguimenti tecnici
Google Spotlight's Virtual Reality Platform
Special Achievement Award
June Foray Award – Premio per l'impatto significativo e benefico nell'arte e l'industria dell'animazione
Certificato di Merito
Leslie Ezeh
Gary Perkovac