TV News
The Walking Dead
The Walking Dead 9: anteprima dei primi minuti dell'episodio 6
di Chiara Poli - | aggiornato
Il futuro appare ancora più buio. Si va avanti, si tiene duro. Ma non si dimentica: il dolore non passa. The Walking Dead ci regalerà un altro episodio memorabile.
0 commenti
Il mondo è cambiato ancora: è diventato un mondo senza Rick. Per Michonne, che gli parla molti anni dopo la sua (presunta) morte, il tempo in un certo senso si è fermato. A dispetto del lungo salto temporale che, come ci aveva anticipato lo scorso episodio, ci ha proiettati in una nuova era. Un'era in cui Michonne è ancora legata al suo perduto amore, pur essendo andata avanti. Un'era in cui Carol, sempre accanto a Ezekiel, appare molto diversa. Un'era in cui Daryl, solitario, si procura del cibo e combatte gli zombie - osservando come il bosco e la terra, attorno a lui, abbiano iniziato a riprendere vita.
Ciononostante, la voce di Michonne è più chiara che mai.
Il percorso davanti a noi è diventato ancora più buio.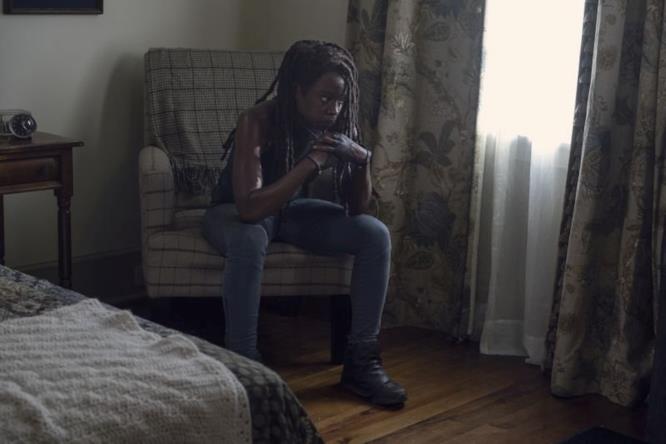 AMC
17
AMC

AMC

AMC

AMC

AMC

AMC

AMC

AMC

AMC

AMC

AMC

AMC

AMC

AMC

AMC

AMC

AMC
1 di 17
Nel nuovo episodio di The Walking Dead, il sesto della stagione 9 in onda stasera in prima assoluta su FOX, scopriremo quanto. Un futuro buio, in cui un mondo diverso si prepara a sfidare i nostri protagonisti - quelli sopravvissuti, almeno - con ostacoli inediti. Ostacoli sempre più difficili da comprendere, interpretare, affrontare.
Non c'è pace per chi respira ancora. Non c'è tregua.  C'è tanto dolore... E ci sono i soldatini di plastica, un soldatino di plastica, che si trasforma in un simbolo. Qualcosa che ti dà il coraggio di andare avanti. Senza mai dimenticare.