Celebrity
Tessa Thompson, Greta Thunberg, Kim Se-yeon: i Next Generation Leaders 2019 secondo TIME
di Giulia Greco - | aggiornato
TIME ha stilato la lista dei dieci personaggi che cambieranno il futuro. Da Greta Thunberg a Tessa Thompson, ecco i leader della prossima generazione.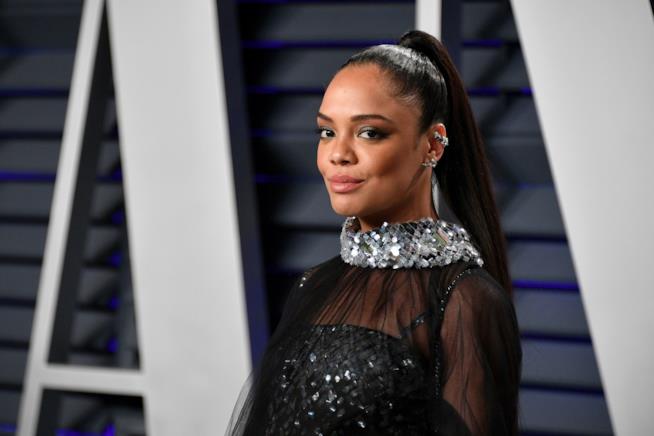 Getty Images
12 condivisioni 0 commenti
Sono trascorsi cinque anni da quando la rivista TIME ha iniziato a scommettere su chi saranno i personaggi più influenti dei prossimi anni. Anche in questo 2019, il magazine ha stilato una lista di 10 Next Generation Leaders che hanno cambiato e continueranno a cambiare il mondo della politica, della tecnologia, della cultura, della scienza, degli sport e degli affari.
Introducing the 2019 class of Next Generation Leaders, featuring rising stars in politics, technology, culture, science, sports and entertainment. See the full list here: https://t.co/5VINRUzbER pic.twitter.com/nGn5HJDaCw

— TIME (@TIME) May 16, 2019
L'elenco dei prescelti spazia dall'attivista Greta Thunberg allo chef Tunde Wey. Naina Bajekal, che ha supervisionato il progetto, ha detto:
Il bello di questa lista è che mette in evidenza il fatto che i giovani si rendono responsabili del cambiamento. Non hanno paura di osare.
I Next Generation Leaders del 2019
Greta Thunberg
Tessa Thompson
Tunde Wey
Ramla Ali
Ethan Lindenberger
Kim "Geguri" Se-yeon
David Miranda
Dina El Wedidi
Rosalía
CarryMinati
Greta Thunberg è la ragazzina che a soli 16 anni è riuscita a dare vita alla prima marcia internazionale per il clima. Il suo viaggio è iniziato molto prima, quando all'età di 11 anni ha studiato a scuola le cause del cambiamento climatico. Da allora la ragazza si è ripromessa che avrebbe fatto la differenza, e ci è riuscita, tanto da giungere a tenere un discorso al Parlamento Europeo riunitosi in sessione plenaria a Strasburgo.
"Prima non parlavo mai coi compagni di scuola o durante le lezioni. Adesso parlo al mondo intero", ha detto la ragazza.
Tessa Thompson, l'attrice che interpreta Valchiria nel MCU, è una donna di colore appartenente alla comunità LGBTQ che lotta affinché tutte le minoranze siano rappresentate a Hollywood. TIME la definisce il supereroe di cui il mondo dello spettacolo ha bisogno.
Non voglio sputare nel piatto in cui mangio, ma penso che a volte un rimprovero amichevole sia necessario. L'inclusione non avviene per caso. Bisogna dare una spinta alla gente.
Secondo TIME, la Thompson è abbastanza famosa da poter ricoprire un ha un ruolo politico significativo e riuscire a fare pressioni affinché chiunque a Hollywood sia rappresentato.
Allo stesso modo, lo chef nigeriano Tunde Wey vorrebbe rendere tutti più consapevoli delle ingiustizie del mondo e lo fa attraverso il cibo che prepara e che utilizza come uno strumento per far riflettere sulle disparità tra bianchi e neri in America. Ha aperto un ristorante a New Orleans, in cui, per lo stesso piatto, chiede ai bianchi pagare più del doppio rispetto ai neri. L'obiettivo è mettere in evidenza le differenze economiche tra i due gruppi.
Il mio lavoro è mettervi a disagio e ciò che desidero è l'eguaglianza razziale.
Tunde Wey has used his evolving platform as a New Orleans-based chef to make food a tool for provocation and social transformation https://t.co/SFVJpp9bqD

— TIME (@TIME) May 16, 2019
Ramla Ali è una campionessa di box di origini somale. I riconoscimenti ricevuti in Regno Unito non sono ancora abbastanza per la donna, che adesso punta alle Olimpiadi di Tokyo.
The first Muslim woman to win an English boxing title, Ramla Ali has her sights set on a new goal — the 2020 Olympic Games https://t.co/yNLsawt2Ku

— TIME (@TIME) May 16, 2019
Ethan Lindenberger ha preso posizione a favore della vaccinazione, scontrandosi con la volontà della sua stessa madre. All'età di 15 anni ha messo in discussione tutto ciò che la madre gli aveva ripetuto nel corso degli anni e ha scoperto che la visione della madre non era condivisa da tutti. Si è vaccinato e ha condiviso la sua esperienza col resto del mondo.
Non ho mai messo in discussione l'amore di mia madre, ma le fonti a cui si affidava e le informazioni che otteneva. 
"I never questioned my mother as a parent, as someone who loves me," Ethan Lindenberger said. "I questioned the sources she was going to" https://t.co/KHo9E0yshr

— TIME (@TIME) May 16, 2019
Kim Se-yeon, meglio conosciuta col nickname Geguri, è conosciuta per la sua abilità di gamer. È la prima donna a far parte della Overwatch League.
Dato che sono l'unica ragazza a farne parte, penso che molte persone guardino a me come a un modello da seguire. Con questa consapevolezza, cerco di ispirare altri ad arrivare dove sono io ora.
In 2016, this gamer was accused of cheating for her impeccable aim. That didn't stop Geguri from becoming the first and only female player in the Overwatch League https://t.co/IKFixXBzut

— TIME (@TIME) May 16, 2019
David Miranda, politico e giornalista brasiliano, fa parte del Congresso federale dello stato di Rio de Janeiro e si fa portavoce di chi non può far sentire la propria. Nero e apertamente gay, desidera farsi simbolo della lotta che le minoranze continuano a combattere.
Voglio farmi strumento per la democrazia. Chi non ha voce, userà la mia.
"I want to be a tool for democracy," @davidmirandario said. "People who don't have a voice should use me for whatever cause they want" https://t.co/3fCAUoqkQ7

— TIME (@TIME) May 16, 2019
Dina El Wedidi e Rosalía rappresentano invece il cambiamento attraverso la musica. Una egiziana, l'altra spagnola, le due cantanti si rivolgono ai più giovani.
È importante che continuino a coltivare i propri sogni e a non perdere la speranza.
How Egyptian artist @ElwedidiDina is drawing from history to inspire change for the future https://t.co/M1NdWvXV0I

— TIME (@TIME) May 16, 2019
La mia generazione sta cambiando le cose. Molte più donne lavorano nel campo musicale. Stiamo lottando per la visibilità che meritiamo.
"My generation is changing things," @rosaliavt said. "More women are working behind the music. We're fighting for the visibility we deserve" https://t.co/CPtG4ZW8hR

— TIME (@TIME) May 16, 2019
Nella lista dei Next Generation Leaders, c'è anche Ajey Nagar, in arte CarryMinati, lo youtuber il cui scopo è essere d'ispirazione agli indiani, convincerli a schierarsi contro chiunque ridicolizzi la loro cultura e essere orgogliosi delle proprie origini.
With about 265 million monthly users, India has the biggest YouTube audience in the world. @CarryMinati is one of the country's most popular rising stars on the platform https://t.co/jUq0zOyxFF

— TIME (@TIME) May 16, 2019
Per una lettura più approfondita date un'occhiata al sito ufficiale del magazine!